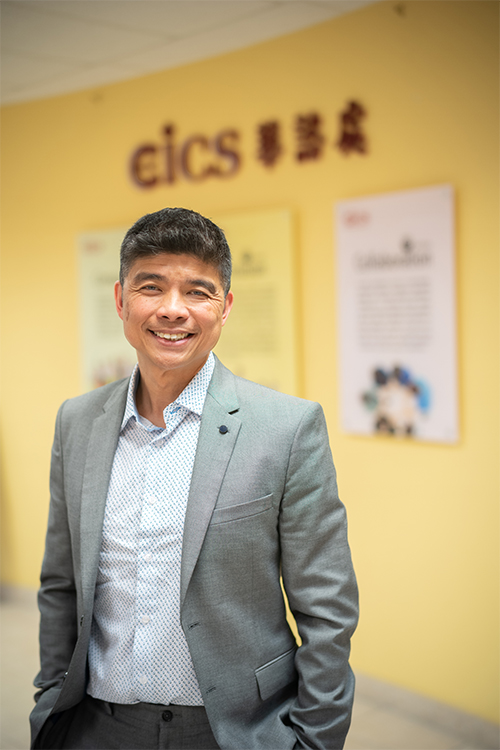 Alfred Lam
Executive Director, Centre for Immigrant and Community Services (CICS)
Alfred's story with CICS started in 2010 when he joined the agency as Centre Manager to lead its efforts to establish and operate Markham South Welcome Centre, part of the York Region network of five centres and multiple partners that provides newcomers with a single point of access to settlement services.
Alfred became Executive Director of CICS in 2021 amid the COVID-19 pandemic and pivoted the agency to survive and thrive during challenging times. Under his leadership, CICS has continued to expand and improve its programs and services to meet the evolving needs of newcomers and the community. He has also been actively advocating for policies and programs that support immigrants and refugees.
Alfred is currently Board Chair for Ontario Council of Agencies Serving Immigrants (OCASI), which advocates for and coordinates responses from more than 200 immigrant and refugee-serving agencies across the province. He also co-chairs York Region's Newcomer Inclusion Table, a multi-sectoral group that advises regional government officials and staff on developing and implementing newcomer integration initiatives that respond to community needs.
Previous to his past 13 years with CICS, Alfred was Executive Director of Helpmate Community Information and Volunteer Bureau in Richmond Hill.
Beyond his professional responsibilities, Alfred volunteers to serve the marginalized and vulnerable in the community and is passionate about empowering youth. He had previously served as Board Chair for Ambassadors For Christ (AFC) in Canada.
At heart, Alfred is a writer who tirelessly promotes awareness and fights stigma on issues relating to mental wellness. His critically acclaimed book, "Among The Ashes," documents his journey and struggle with depression and has helped many deal with the disease. The book has been translated into Chinese to reach more people in the Chinese community.
Alfred is active as an Ironman triathlete and lives in Toronto with his wife and their two daughters.