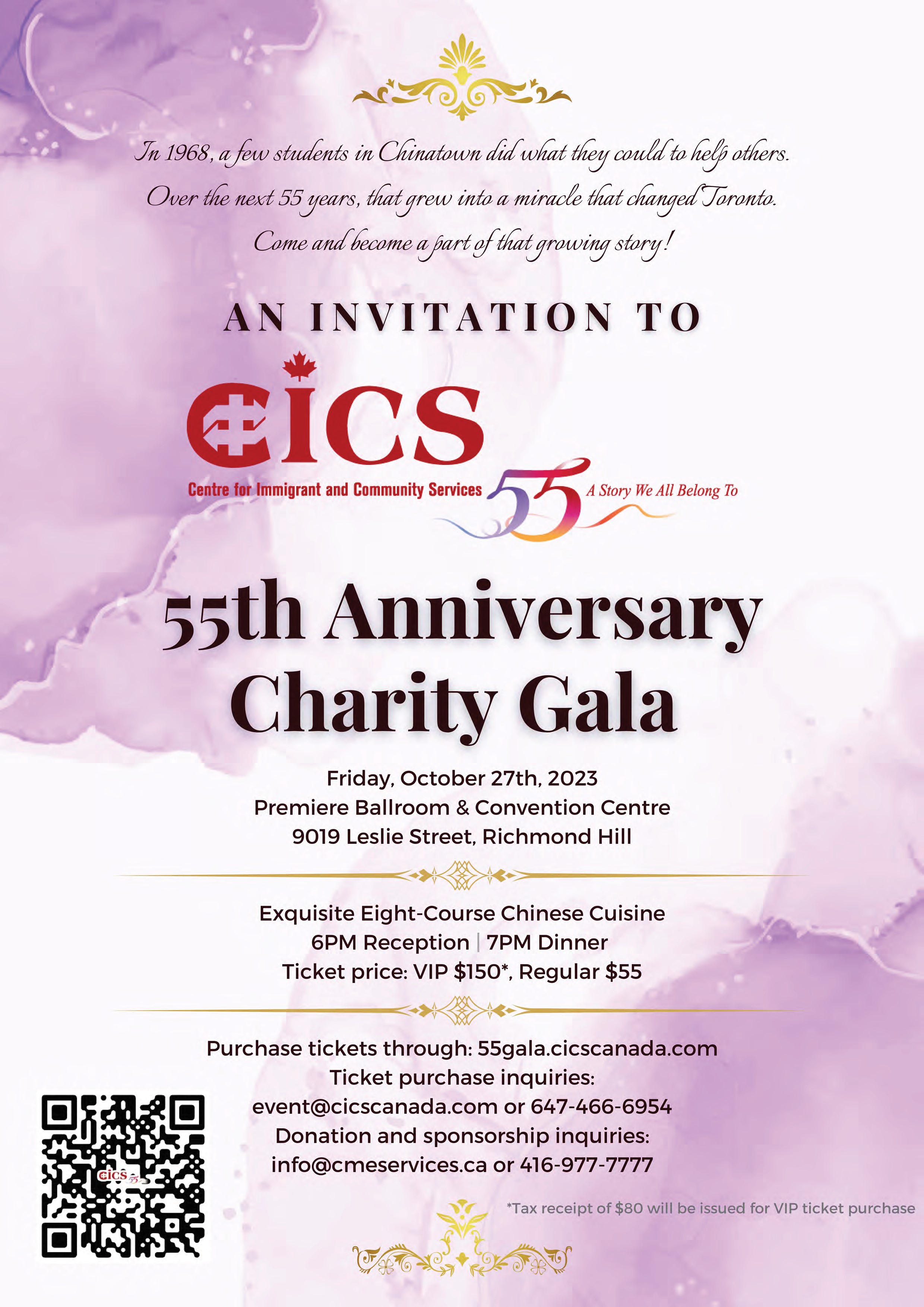 TORONTO, ON – August 29, 2023 — The Centre for Immigrant and Community Services (CICS) is thrilled to announce the CICS 55th Anniversary Charity Gala, set to take place on Friday, October 27 at the Premiere Ballroom & Convention Centre in Richmond Hill. Themed as "A Story We All Belong To," this exquisite banquet will not only showcase spectacular performances and a charity auction but also provide an opportunity for guests to delve into CICS' journey in the Greater Toronto Area. Moreover, it will be a moment for CICS to express heartfelt appreciation for the unwavering community support over the last 55 years. The gala will channel all proceeds towards expanding CICS' community services.
"Since its inception in 1968, CICS has stood as a pillar of support for communities in the Greater Toronto Area, empowering newcomers and vulnerable populations to flourish," CICS Executive Director Alfred Lam said. "In recent years, responding to the needs of the community, CICS has expanded its scope to encompass services that are not eligible for direct government funding. This expansion includes assistance for Hong Kong residents who arrived in Canada through the permanent residence pathway, international students and low-income individuals requiring food support. Every dollar raised at the charity gala will help us enhance these vital services." Lam emphasized, highlighting CICS' commitment to further developing its settlement services and community food programs, enriching lives within the community.
Tickets for the gala are offered at $150 per person. In addition, a limited number of specially-priced tickets at $55 each are available, as a token of appreciation for the ongoing support of the community. The aim is to enable more individuals and families to join CICS in the celebration of the agency's remarkable journey.
The gala has already garnered widespread community support, including sponsorship from the Premiere Ballroom & Convention Centre, the gala's chosen venue. In addition, internationally acclaimed artist Stephen Yau has also donated two watercolour paintings to be featured in the charity auction. CICS extends heartfelt gratitude to all sponsors and encourages the public to become part of the movement by purchasing gala tickets, making donations or becoming sponsors. Every gesture of support contributes to writing "A Story We All Belong To," paving the way for a brighter future for the entire community.
CICS 55th Anniversary Charity Gala
Date: Friday, October 27, 2023
Time: Reception at 6 p.m., Dinner at 7 p.m.
Location: Premiere Ballroom & Convention Centre (9019 Leslie Street, Richmond Hill)
Ticket price: VIP $150, Regular $55 (A $80 tax receipt will be issued for VIP ticket purchase)
Where to buy tickets:
Immigrant Resource Centre (CICS head office)
2330 Midland Avenue, Scarborough (North of Highway 401)
Hours for ticket sales: Monday to Friday, 9 a.m. to 12:30 p.m., 1:30 to 4:30 p.m., closed on holidays
Markham South Welcome Centre
7220 Kennedy Road, Unit 8 (South of Denison Street)
Hours for ticket sales: Monday to Friday, 8:30 a.m. to 4:30 p.m., closed on holidays
Buy tickets online: 55gala.cicscanada.com/
Ticket purchase inquiries: event@cicscanada.com or 647-466-6954
Donate to CICS: www.canadahelps.org/en/charities/centre-for-immigrant-and-community-services/
Donation and sponsorship inquiries: info@cmeservices.ca or 416-977-7777
About Centre for Immigrant and Community Services (CICS)
Founded in 1968, CICS is a not-for-profit organization and a registered charity that provides core settlement and integration services, including language training and employment, at eight locations across Toronto and York Region, serving more than 20,000 clients every year from early years children to seniors. CICS has also established community food programs that aim at increasing food security through our own community garden, community kitchen and food bank. CICS is as well committed to building welcoming and inclusive communities by being a strong advocate for social justice and anti-racism.
Learn more at CICS' website or follow us on Facebook, X, Instagram and LinkedIn.
###
For more information, please contact:
Nicole Leung
Email: nicole.leung@cicscanada.com